Michigan Town Named One of the Best Christmas Towns in USA
This article was originally published on Rooted Wanderings – a travel site dedicated to producing unique in-depth guides to explore hidden gems across the world. It has been republished with permission.
---
Nothing can put a bigger smile on a face faster than the sights and sounds of Christmas, especially when visiting some of the best Christmas towns in the USA. The holiday season and the festive nature of Christmas bring a certain joy to people of all ages that's hard to contain.
The best U.S. Christmas towns embrace the spirit of the holidays all year long and are popular places to visit. These towns offer the sights, sounds, smells, and cheerfulness of the holidays whether it's the middle of June or late in December.
The spirit of Christmas is found right in the names of many of these joyful towns and walking down their streets feels like something straight out of a Hallmark movie.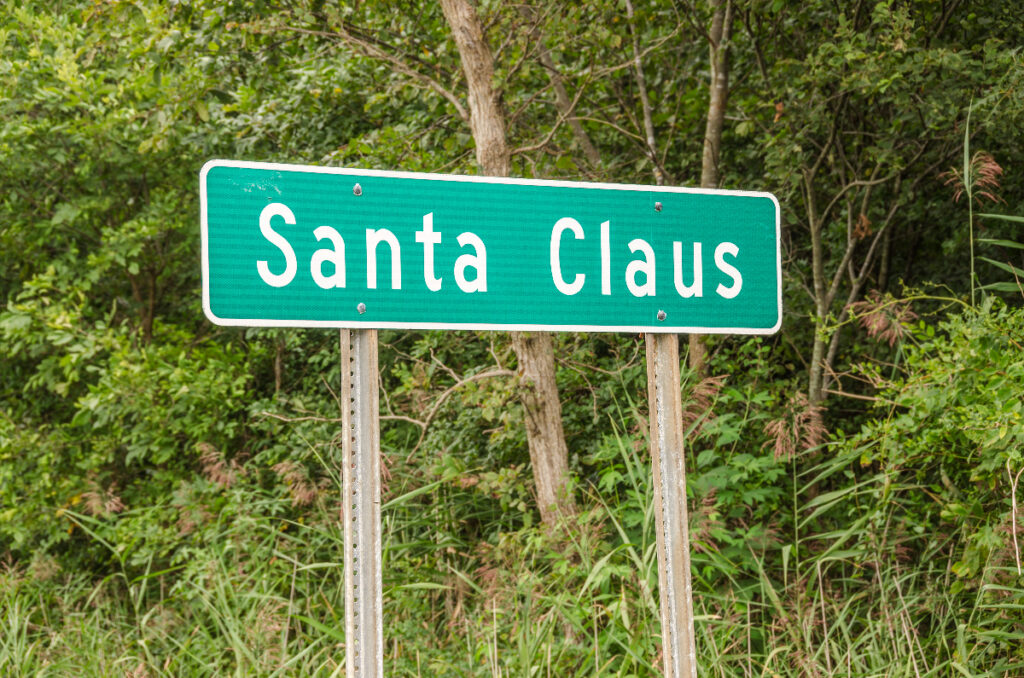 Santa Claus, Indiana
The origins of the town's name are somewhat shrouded in legend, but the town was established in the 1850s as Santa Fe and later became Santa Claus after a post office dispute.
Christmas spirit is alive and well all around this southern Indiana town: A statue of Santa greets visitors at City Hall and there are several Christmas-themed attractions, including the Santa Claus Museum, Santa's Candy Castle, Frosty's Fun Center, and more.
As the only town in the world with a post office named Santa Claus, the office receives letters to Santa by the thousands and a group known as Santa's Elves ensures that each child who writes gets a response from Santa.
The town has less than 3,000 permanent residents, but gets more than a million tourists each year, who come to enjoy the town's Christmas vibe.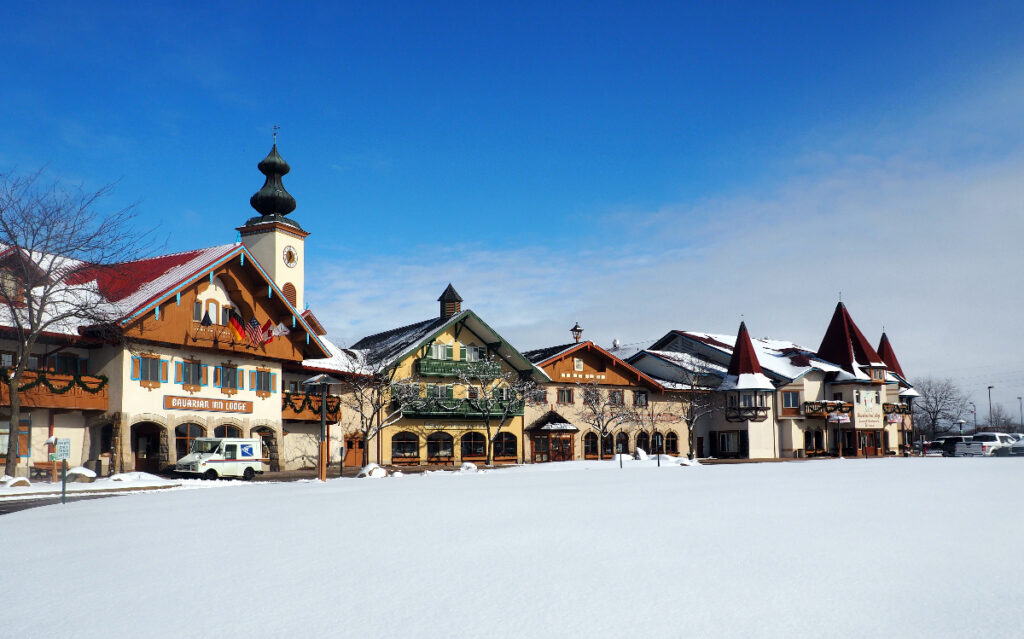 Frankenmuth, Michigan
Known as Michigan's Little Bavaria, Frankenmuth isn't Christmas-themed, but embodies the spirit of the holidays, especially during the winter season.
This is because Frankenmuth is home to Bronner's CHRISTmas Wonderland. Touted as the world's biggest Christmas store, visitors of all ages can feel the magic of the holidays the minute they step inside.
A visit here is the perfect way to get into the holiday spirit because the store is filled wall to wall with Christmas decorations, gifts, and more. Be prepared for long lines and lots of people if you visit during the holiday.
Residents and out-of-town visitors alike love coming here to eat at Bavarian Inn Restaurant or Zehnders for their world-famous chicken dinners. With a variety of small shops in and near downtown, some holiday shopping is the perfect activity before or after a filling meal.
Related: 11 BEST Hallmark Movie-esque Christmas Towns in Michigan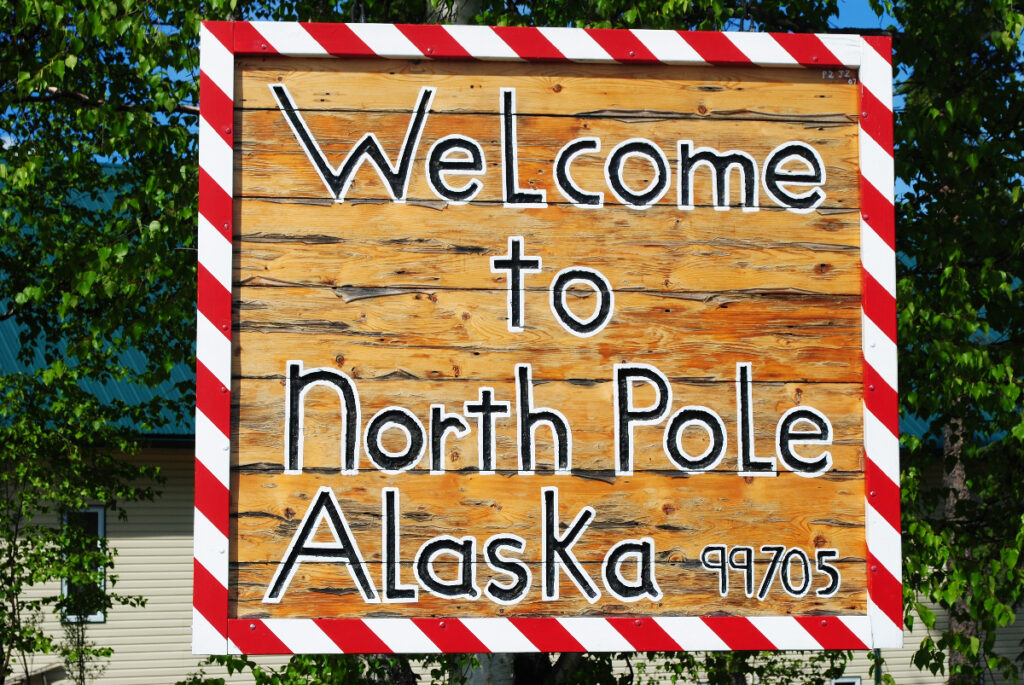 North Pole, Alaska
Despite its name, this city in the metro area of Fairbanks, Alaska is more than 1,500 miles south of the actual North Pole.
The city is a summertime tourist attraction for visitors passing through Fairbanks and has embraced its identity as a Christmas city. It's home to the Santa Claus House gift shop, which features the largest fiberglass statue of Santa in the world.
Walking through the city, North Pole visitors will feel themselves wrapped in holiday spirit as they stroll down St. Nicolas Drive and Santa Claus Lane. The town was even once home to a Christmas-themed roller derby team, whose members all had holiday-inspired names.
Like other Christmas town post offices, North Pole receives thousands of letters each year and advertises its zipcode as the home of Santa.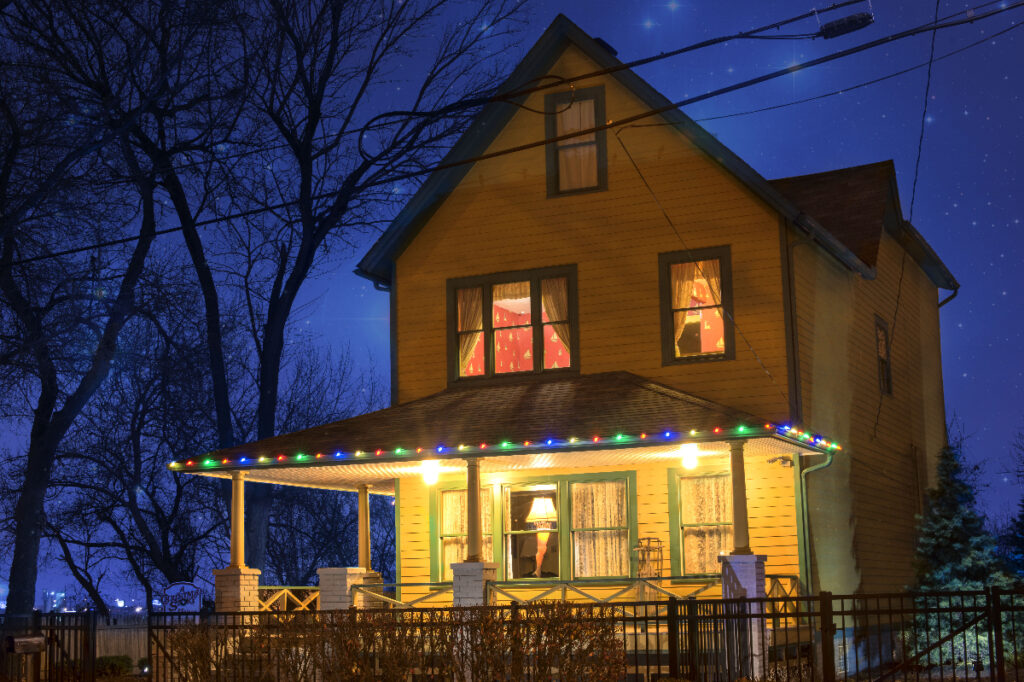 Cleveland, Ohio
Nestled on the shores of Lake Erie, Cleveland gets into the holiday spirit with family-friendly events like WinterLand and Cleveland Kurentovanje.
But Cleveland's biggest claim to Christmas fame is being the home of the famed Christmas Story House and Museum. Located in Cleveland's Tremont district, this home is an exact replica of the home from the holiday classic "A Christmas Story," down to the smallest detail.
Not only can fans of "A Christmas Story" see props, costumes, and other memorabilia from the movie, but there's also a gift shop and it's even available for overnight stays.
Related: Check out more than a dozen magnificent Christmas towns in the Buckeye State.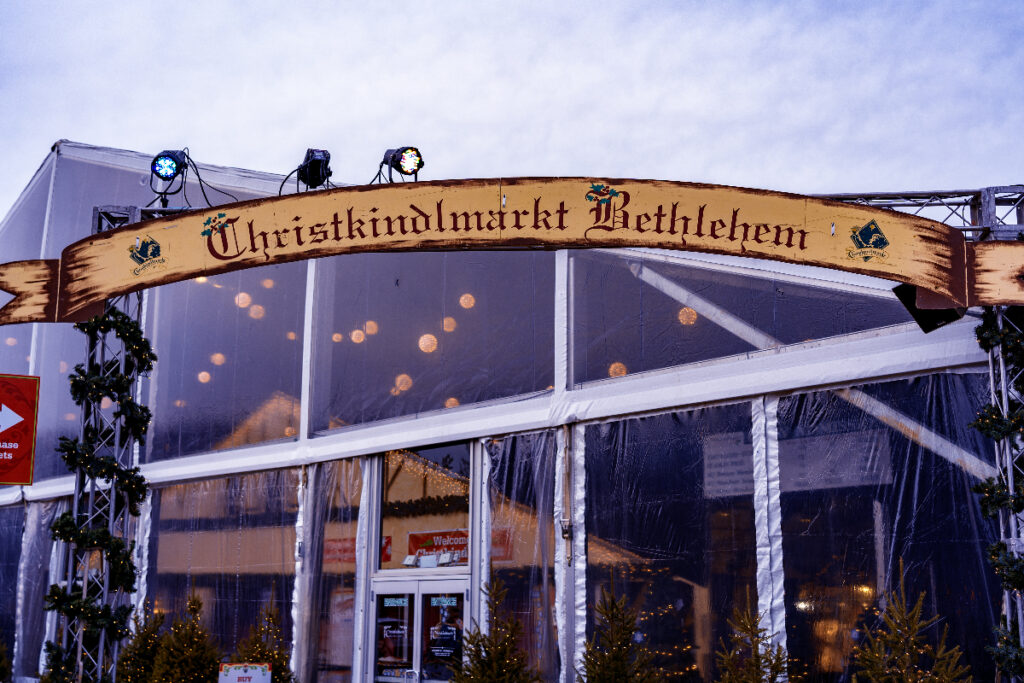 Bethlehem, Pennsylvania
The link between Christmas and Bethlehem, Pennsylvania dates back to 1741 when the city received its name on Christmas Eve from a bishop. A few years later, it was one of the first cities in the future United States to publicly display a Christmas tree.
In 1937, Bethlehem adopted the nickname "Christmas City USA" in a well-attended ceremony. Today, that nickname is upheld each winter with a host of fun-filled holiday events and traditions.
Eager holiday shoppers can peruse during several different holiday markets including Christmas Huts on Main and Christkindlmarkt. The city also features a live advent calendar during the holidays, a popular night bus tour, and a Christmas City Stroll, where visitors can explore historic sites on foot.
With a nickname like Christmas City USA, Bethlehem doesn't disappoint and is the perfect place to make your days merry and bright.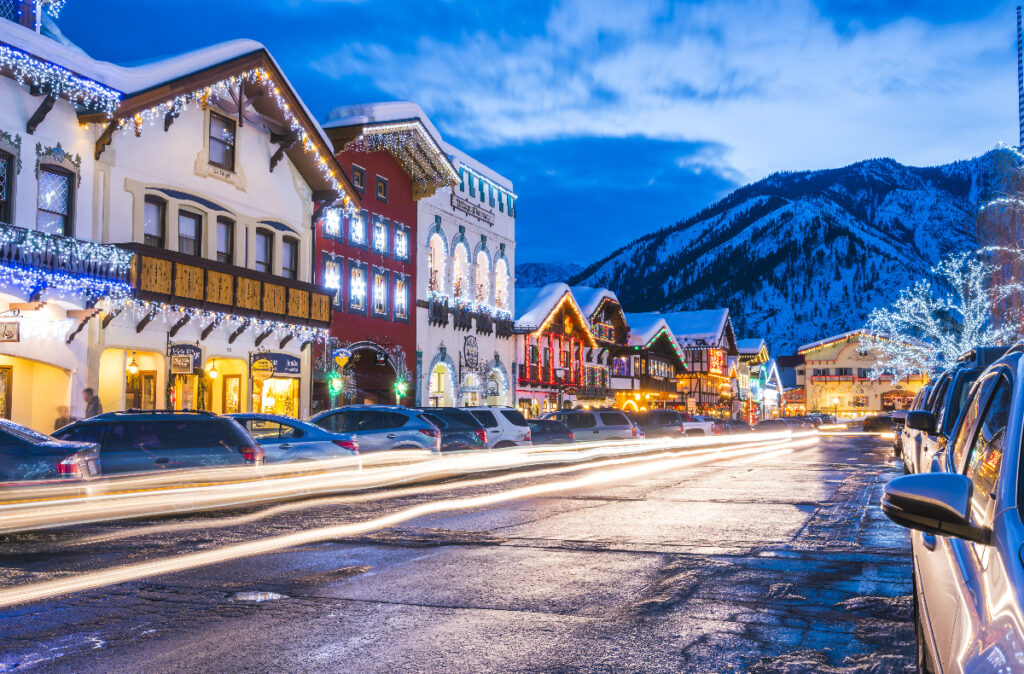 Leavenworth, Washington
Nestled in the Cascade Mountains, Leavenworth is a popular destination for year-round fun. With a town center that resembles a Bavarian village, Leavenworth hosts a host of events, including an annual Oktoberfest celebration and plenty of winter festivities.
While it's not entirely Christmas-themed, Leavenworth has been named the Ultimate Holiday Town by A&E Network.
When Christmastime arrives, Leavenworth pulls out all the stops. Its annual Village of Lights Christmastown features lights every day from Thanksgiving to Christmas Eve.
The town holds many other holiday events, including live entertainment, appearances by holiday characters, meet and greets with Santa Claus, kids activities, and much more.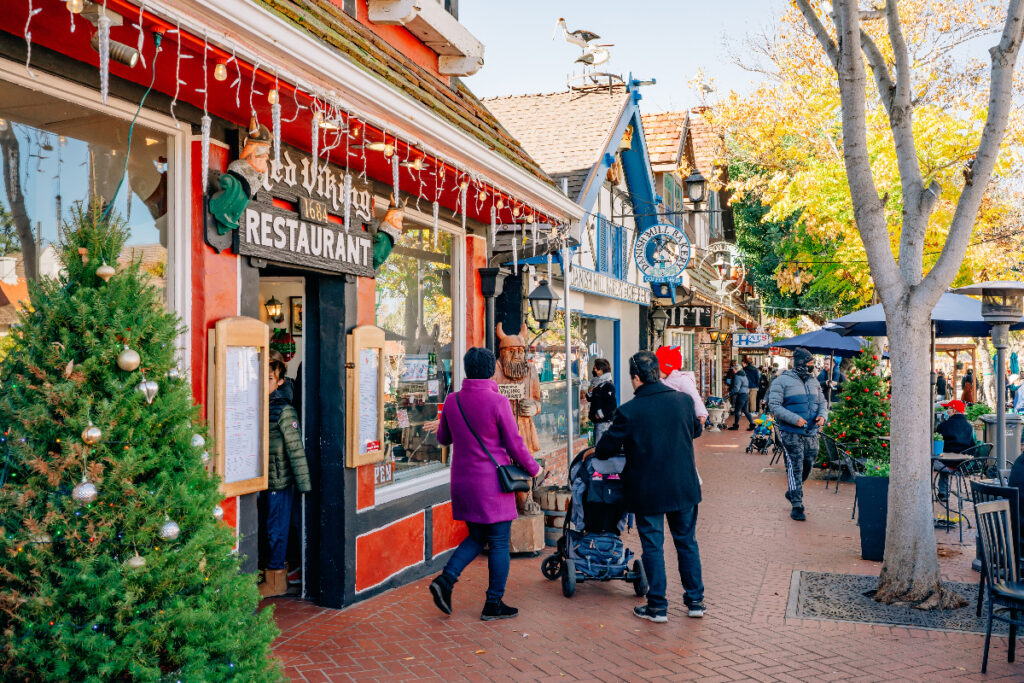 Solvang, California
With a name that means sunny field in Danish, this coastal southern California city is known as "America's Danish Capital" and celebrates the holidays in kind.
The centerpiece of Solvang's celebration is its Danish Julefest, a monthlong extravaganza that begins in late November and runs until Christmas Eve. Julefest is packed with holiday music, holiday shopping, wine and beer, delicious Danish culinary delights, and much more.
All month long, residents and visitors alike can enjoy events like the annual Julefest parade, a tree-lighting ceremony, a tree burn to signal the end of Julefest, Christmas markets, and other family fun.
California may not be the first place one thinks of when they think of Christmas, but Solvang's annual celebration is bursting with holiday spirit and fun for all ages.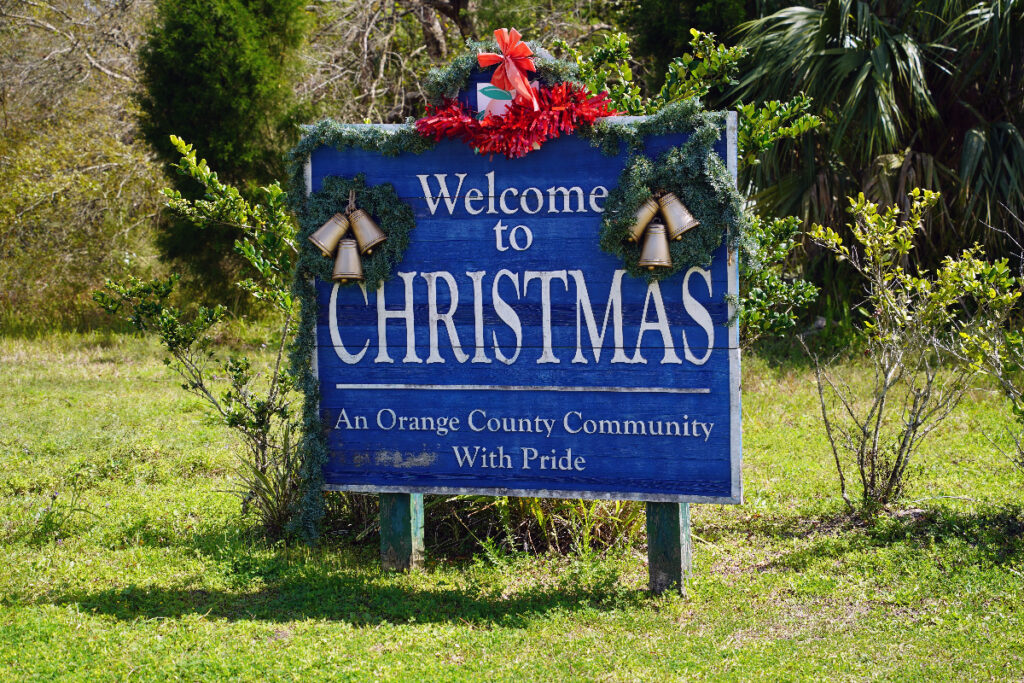 Other Towns With Holiday-Themed Names
There are many other towns in the USA with festive names, though some of them have seen better days. If you can't get enough of the holiday spirit, consider trips to these festive spots.
Christmas, Michigan: Nestled in Michigan's Upper Peninsula, this unincorporated community was once the site of a roadside holiday product factory. Today, it's a popular spot for snowmobilers to stop in wintertime.
Christmas, Florida: Located in central Florida, this town with a population of just under 2,500 sends a great volume of mail from its post office for those who want the Christmas postmark.
Christmas, Arizona: The mine that led to the creation of this former mining town was staked in 1902 on Christmas Day, and was a popular destination for holiday mail.
Christmas, Mississippi: This is an unincorporated community on the border of western Mississippi.
Christmas Knob, New York: This New York summit is located in central New York and has an elevation of 594 feet.
Santa Claus, Georgia: This town has a population of just 204, but the holiday spirit can be felt driving down streets with names like Candy Cane Road, Rudolph Way, and Sleigh Street.
Santa Claus, Arizona: This uninhabited spot in Northwest Arizona was once a roadside stop for tourists going to and from Phoenix and Las Vegas, but has since been abandoned.
Noel, Missouri: Referred to by some as the "Christmas City in the Ozark," Noel is nestled in the southwesternmost corner of Missouri. This town's post office receives a heavy load of letters around the holidays and used to broadcast the "Noel Story" on the radio during the holidays.
North Pole, New York: This New York hamlet is considered to be one of the snowiest places in the Northeast and is also home to Santa's Workshop, one of the nation's first amusement parks.
Make Your Way to a Festive US Christmas Town
Whether you're trying to beat cabin fever or you're feeling the Christmas itch in the middle of July, the best U.S. Christmas towns are waiting to share their holiday spirit with you.
You can find the perfect decoration for your family Christmas tree, gifts for everyone on your holiday list, or just revel in the joy and warmth of a holiday celebration.