17 Reasons To Visit Michigan's Adventure Amusement Park & Water Park
Did you know that there's only one permanent theme park in Michigan? Michigan's Adventure is owned by Cedar Fair and is located in Muskegon, Michigan.
Our family loves to take mini-vacations (I call them staycations if we don't have to drive more than 4 hours). It's a great way to get away from the everyday chaos of life and spend some quality time together.
We recently enjoyed a trip to Michigan's Adventure as part of a two-day family vacation in West Michigan, and we had a great time together as a family!
In our experience, Cedar Fair's parks are very special. Michigan's Adventure is no exception. Their safety record is superb, their overall efficiency makes for an enjoyable experience, and their ability to bring out your inner child is incredible.
Keep reading for seventeen more reasons to venture out to the best amusement park in Michigan plus a packing list of things to bring to Michigan's Adventure.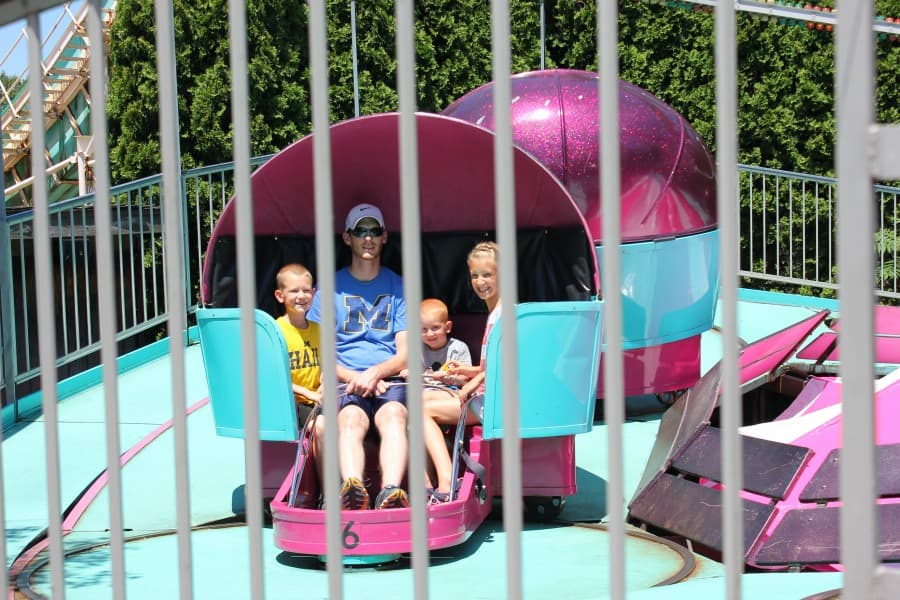 Michigan's Adventure Tickets
If you're asking "How much does it cost to get into Michigan adventures?" there are a few things you need to know. Amusement park ticket prices vary depending on if you are looking for single-day tickets, bundles, or season passes.
Some people also ask, "How much are Michigan Adventure tickets at Meijer?" In years past, you could purchase a day pass to Michigan's Adventure from any Michigan Meijer store for the same cost as purchasing online, but without the service fees. Check with your local Mejier store to see if they are participating this year.
Michigan's Adventure season passes are available, and all Cedar Fair Platinum Pass holders have access to Michigan's Adventure amusement park and WildWater Adventure waterpark all season long. (Cedar Fair is the parent company of top midwest amusement parks such as Cedar Point, Michigan's Adventure, Dorney Park, Kings Island, and more.)
Parking at Michigan's Adventure is $15 a day for regular-sized vehicles.
Directions to Michigan's Adventure

Michigan's Adventure map
Michigan's Adventure is easy to get to from US-31, just north of Muskegon. Use exit 121 and follow the signs to E Riley-Thompson Rd.
Where to Stay Near Michigan's Adventure
While Michigan's Adventure does not have any on-site lodging options, Duck Creek RV Resort campground is located directly across the street from the main entrance to the amusement park (you can even rent an RV if you don't want to bring your own).
There are hundreds of Muskegon vacation rentals nearby, and there are also several close to Michigan's Adventure hotels in Muskegon that are just a short drive away.
17 Reasons to Visit Michigan's Adventure Amusement Park
If you're looking for a family-friendly fun attraction in Michigan, look no further than Michigan's Adventure in Muskegon!
Two parks for the price of one, Michigan's Adventure has something for everyone. There are over 100 reasons why you should experience family-friendly fun at Michigan's Adventure amusement park and water park with your family this summer.
Why Coaster Lovers Love Michigan's Adventure Amusement Park
Thunderhawk at Michigan's Adventure
Thunderhawk is a must-ride coaster for adrenaline seekers. It is the first and only inverted looping roller coaster (where the train and seats hang down from the track) in Michigan. It's the largest steel coaster in the park and has been making thrill-seekers happy since 2008.
Shivering Timbers Michigan's Adventure's Signature Attraction
Driving into the park, you're greeted by the mile-long Shivering Timbers wooden roller coaster. It's sure to get your blood pumping before you even hit the front gate!
Along with Thunderhawk, Shivering Timbers at Michigan's Adventure is one ride you cannot miss if you love roller coasters as much as I do. With a maximum height of 125 feet and a reputation as the longest wooden coaster in Michigan, Cedar Fair calls it "the park's signature attraction." As a recent rider, I can certainly vouch for this.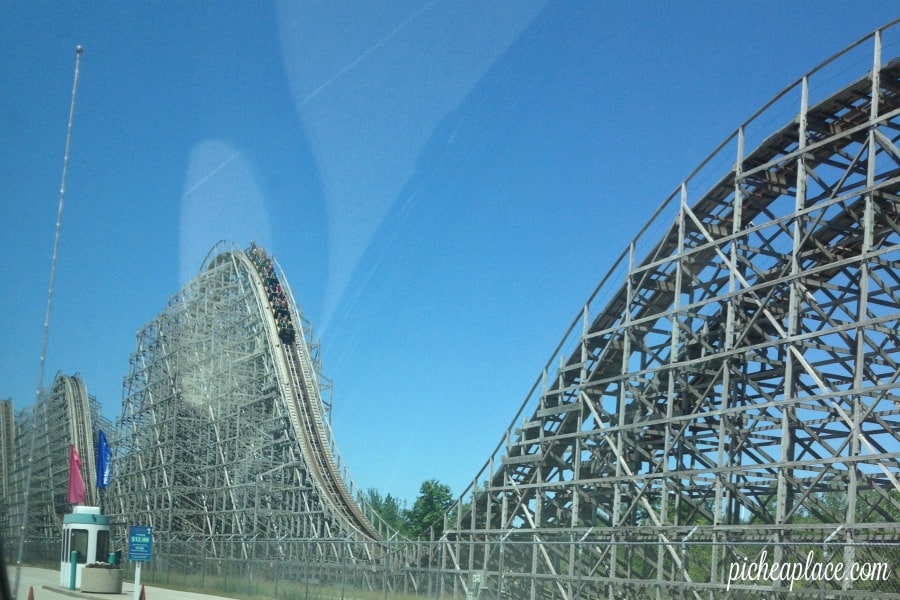 Mad Mouse Roller Coaster
A childhood favorite of mine, Mad Mouse is a good fit for anyone who can stomach being on a roller coaster. It's a fast and exhilarating ride that never ceases to surprise you no matter how many times you've ridden it.
It's what you first see when you pull into the parking lot, and it's what you should ride before anything else. Mad Mouse's wait will likely be the longest of any of the rides, even on days where the park isn't very busy.
Michigan Adventure Corkscrew
'Short and sweet' is Michigan's Adventure's interpretation of a traditional Corkscrew ride. When it was built in 1979, it was the very first roller coaster at the park (which, at that point, was functioning under the name "Deer Park Funland").
In my opinion, this ride is so short that it's not worth going on more than once. Knowing this, your ride on the Corkscrew should not be taken for granted. It's rare that a ride from the 1970s still functions as well as this one does.
Why Families and Children Love Michigan's Adventure in Muskegon
Kiddie Rides at Michigan's Adventure Amusement Park
Since we were vising the amusement park with kids, we started in the children's ride section of the park. The three older kids enjoyed riding in the Flying Elephants and Frog Hopper.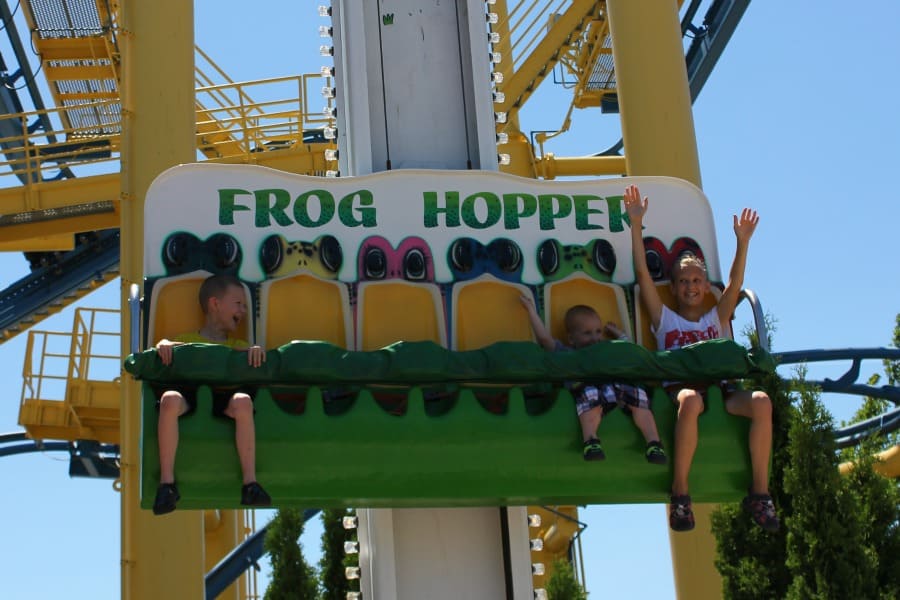 Zach's Zoomer Kids' Coaster
We visited the park on a June Saturday when it was nearly empty, and my friend and I walked right onto Zach's Zoomer. While it is technically a kid's coaster, I found it to be rather fun. A ride on Zoomer is worth experiencing, no matter your age.
Wolverine Wildcat Wooden Rollercoaster
The Wolverine Wildcat feels like a smaller version of Shivering Timbers. While it's a pretty good wooden coaster, it's kind of like Corkscrew. That is, if you make the trip out to Michigan's Adventure, you may as well try it out.
Log Ride Water Ride
A mix of thrill and water, the log ride at Michigan's Adventure is a classic amusement park ride that all ages will enjoy.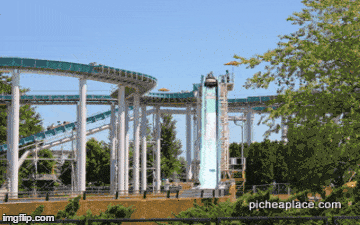 Camp Snoopy & the Peanuts Gang at Michigan's Adventure
If you have kids with you when you visit Michigan's Adventure this summer, they'll love seeing their favorite Peanuts Gang characters throughout the park.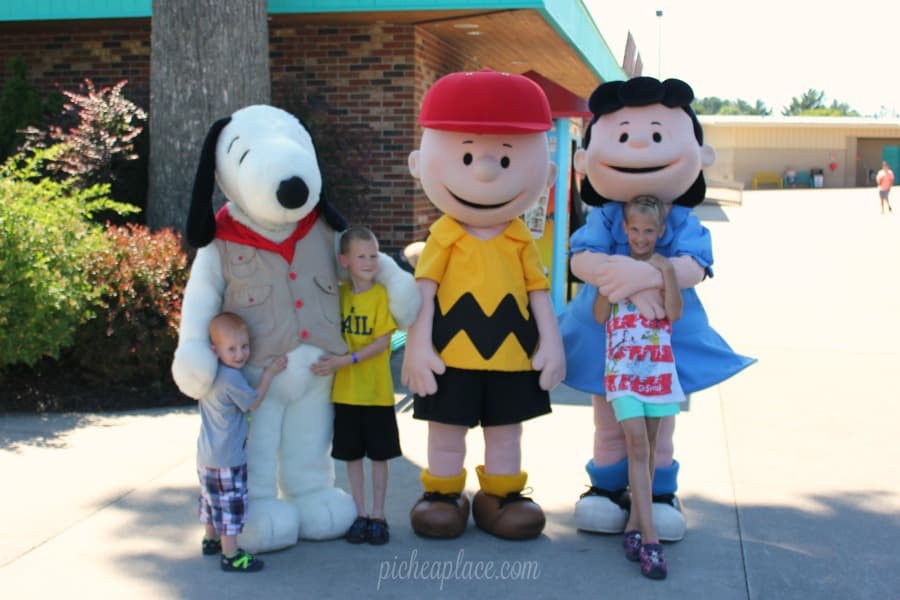 Funland Farm Petting Zoo
If you go to Michigan's Adventure and don't want to go on rides, Funland Farm is a special place where everyone feels safe and comfortable. The petting zoo at Michigan's Adventure features llamas, alpacas, a mini horse, and a mini donkey! While it costs two dollars to feed the animals, petting them is free.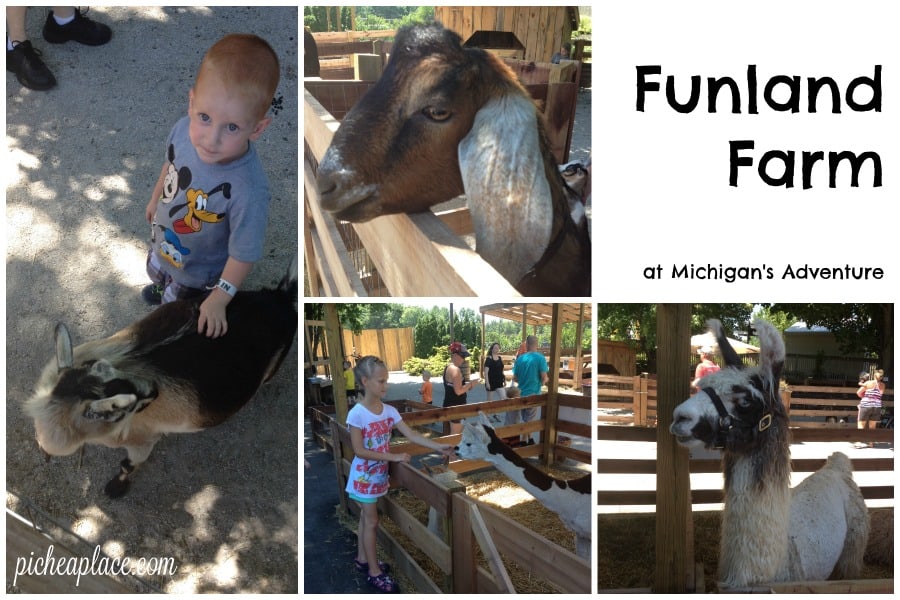 Why Water Lovers Love Michigan's Adventure WildWater Adventure Park
Wildwater Adventure Water Park is Michigan Adventure's incredible water park, which features thrills and fun activities for all including Beach Party, Boogie Beach, Cabana Rentals, and more!
Half Pint Paradise
Half Pint Paradise includes seven water slides and a "Splash Pad."
Beach Party Water Park
When it was time for the older kids to hit the Michigan adventure water slides, I loved that there was a fun kiddie play area, Beach Party, where the little kids were able to play in the water to their hearts' delight while I was able to keep an eye on them from a near-by shaded area.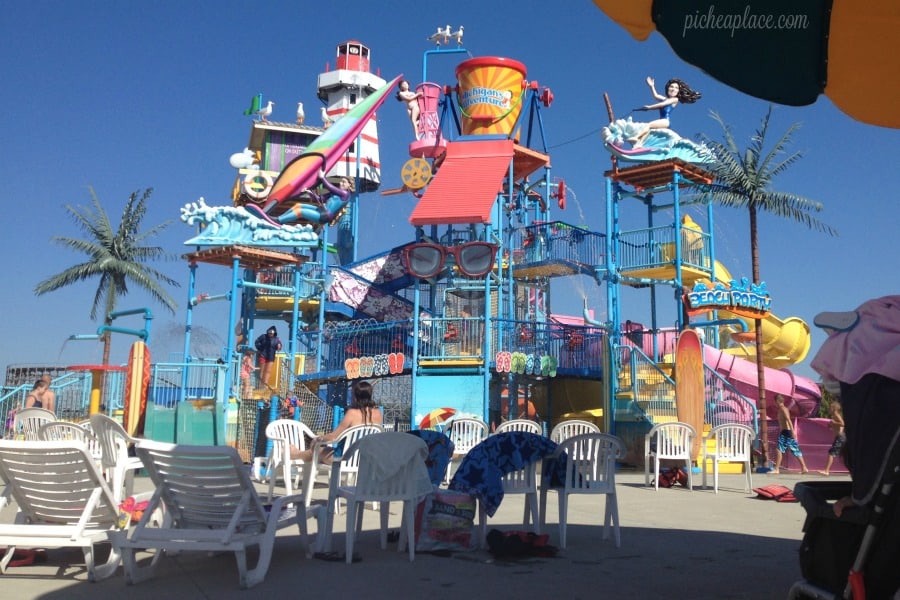 Funnel of Fear Water Slide
One of the staples of Wildwater Adventure is the "Funnel of Fear." I have fond memories of this ride when I used to go on it with my family as a child, and I'm sure your family and friends will too.
Grand Rapids River Ride
The name of this water ride is too perfect not to include on this list. On hot days, this "river rapids ride" will cool you off by getting you totally soaked. Trust me from experience, don't go on this ride if you're not in the mood to be wet for a few hours.
Why Nostalgic Amusement Park Lovers Love Michigan's Adventure
Traditional Amusement Park Rides (Carousel & Ferris Wheel)
Michigan's Adventure also has some traditional amusement park rides: a carousel and a Ferris Wheel.
The best thing about these rides is that everyone in your party can enjoy themselves and feel like a kid again. The Ferris Wheel gives you a great view of the park, and the carousel provides the perfect hiatus from your busy day.
Thunderbolt Classic Amusement Park Ride
Yet another classic amusement park ride at Michigan's Adventure is Thunderbolt, which is a traditional interpretation of a Matterhorn. It's an easy ride to go on before eating lunch. Not only will there be short lines, but you probably won't want to go on it after you eat.
Tilt-a-Whirl at Michigan's Adventure
Among one of the most famous amusement park rides around the world is the Tilt-a-Whirl, which was originally invented in 1926. The version at Michigan's Adventure has been worn down a bit, but it's a small ride that still packs in a lot of fun.
I recommend putting all your party's weight on one side in order to get full 360-degree turns.
What to Bring to Michigan's Adventure
Now that you know why Michigan's Adventure is the best amusement park in Michigan, you're probably wondering what to bring to Michigan's Adventure when you visit this summer.
Since it's a two-for-one (twice the fun!) amusement park and water park, your packing list should include a few more items than it would if you were just headed to a Michigan amusement park.
Bathing suit (one that won't fall off on water slides and water rides)
Towel (while you can purchase Michigan's Adventure towels at the water park, you'll pay a pretty penny to do so)
Clothes (you must wear regular clothes when you are not in the water park area, and a fresh set of clothes for the car ride home is recommended)
Beach bag or backpack (to hold a change of clothes and other accessories)
Sunscreen (there is a limited amount of shades throughout the park)
Plastic bags (for keeping electronics and money dry throughout the day and for wet items at the end of your day)
Empty water bottle (you can't bring in outside food/drink, but you can get free tap water at any concession stand)
There are lockers available at Michigan's Adventure for a small fee.
More Fun in Muskegon
If you're headed to Michigan's Adventure amusement park, be sure to check out other fun things to do in Muskegon in the summer, including visiting one of the best Lake Michigan beaches at Hoffmaster State Park!
Do you have any memories of going to Michigan's Adventure as a kid? Are you planning to go this summer? Let us know in the comments.
—
Content and unmarked photos were contributed by Stefani Chudnow & Pichea Place Family Travel.